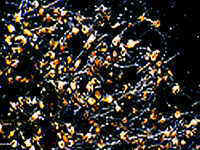 Swollen embryos
breaking testa and
producing first
rhizoides
LABORATORY SERVICES PRICE LIST
SEED SOWING SERVICE

GREEN POD: 20.00 € (2 x Mother Flasks sown)
DRY SEED: 20.00 €(2 x Mother Flasks sown)


REPLATING SERVICE

20.00€ per flask of 25 plants.
18.00€ per flask of 20 plants.
14.00€ per flask of 10 plants.

The following guidelines need to be followed when sending us materials:
Assure that pods are old enough for fertilisation of seeds to have occurred.
Pack the pod(s) to protect them from crushing & damage during postage and ideally post to avoid weekends.
Pack pods in tissue paper or similar dry material and do not seal in plastic bags. Place wrapped pod in crush-proof dry container.
If collecting ripe dry seed it is important that you remove it from the pod quickly and dry it in an airy warm location as soon as possible to avoid contamination of the seeds by fungus before posting or storing it. Once dry it is best sealed in clean, dry glass containers or snap-seal plastic bags and stored in the refrigerator until sent for sowing. In humid areas it is wise to assist seed to dry using reactivated Silica Gel. [ Re-activate silica gel by heating gel to 110 0 C for 15 minutes in the oven before use & wait until it has just cooled before placing in a closed container with the seeds
Advise us how many final replates will be needed.